The history of this temple goes way back to 1969, from that day this temple has been facing many miracles, a few of them are mentioned below.
Sri Swayambhu Nagaraja Bala Subramanya Swamy temple is very near to the Bangalore-Mysore Railway track, which is situated in Padarayanapura layout in Jagajeevaramnagar. It came to light on 1969 Thursday, i,e (Sri Soumyanama Samvatsara Karthika Krishna Dhashmi) afternoon about 12 pm. The owners of this land are Mr B.Veeranagoudru and Mr Mandi Rudrappa.
In 1969, this place was completely covered with rocks, trees and thorn plants. It resembled a forest, so people staying nearby never used this place, as a reason the owners were not able to sell this land, so they decided to level it and sell. They called in a worker who started to level the land and finally levelled it, except for a huge rock which was at the centre. As he started to work on this particular rock he found that there was one smaller rock attached to this huge rock, so he decide to break even this rock, the moment he started to work on the smaller one, he lost his consciousness and fell down, which was noticed by a passerby and came to help. After the worker regained his conscious he narrated the incident to the people, this incident led the people to believe in magical powers.
The worker left the place with thoughts of confusion on his mind, this incident was put forth to the landowners which they refused to believe in any kind of such mystic powers. The story of this incident spread among the people residing nearby, people thronged the place for a sight, a gossip was doing around whether the mystic powers exists or not The next day on the eve of Karthika Bhaula Ekadashi friday 1969, around 8 am in the morning, Veerabdrappa an 18 year old labour who was working at silk factor, residing in the same layout, after hearing the story was curious ,so he visited the place and was standing on one of the rocks and suddenly felt as if a snake hit on his face and he fell down. He started to behave like a snake and crawled like a snake and finally landed up at the rock that was in the center of the land and told that he was residing at this place since 145 years as a nine headed snake, and told that its impossible for humans to see his real state, So he would take the form of nine headed snake which would be inscribed on the rock,this would be auspicious to the people. He did mention that Smt. Munilakshmamma who was first wife of Mandi Rudrappa one of the owner of this land, to perform pooja faithfully. He also told that a person, 3 years later heading from east would come, who eventually would take up all the duties. That person was none other than the present Secretary of the temple. Apart from that on this land a hidden cluster of gods namely MahaGanapati, Karthavaraya, Basavanna, Dathatraya, Sri Valli, Veerabadra, Sri Rajarajeshwari Devi and Navadhawara Sangam could be seen in future. As told these normal rocks would be transformed into idols.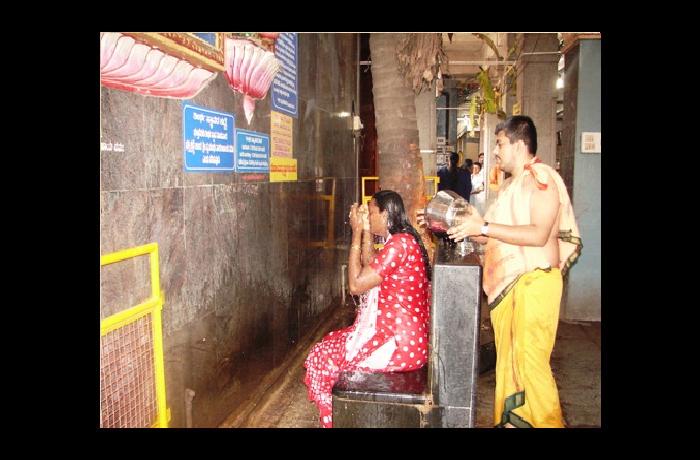 There was a Papaya tree and pumpkin plant whose leaves resembled a snake. Apart from this, there was a coconut tree whose leaves resemble a snake hood that can be seen to date. On special Utsavas and Sevas god, Nagappa Swami and mother Rajarajeshwari will enter into a person named Nagaraju. If Nagappa Swami enters him, he will start crawling like a snake and if mother Rajarajeshwari enters him he starts to dance with Jyothi and Trishul in his hand and starts crawling on the Homakunda Agni Jawle. This miracle happens when doing homa's s per the directions of god, well was dug in the shape of Kalyani. Who ever takes bath from this pure holy water for 3,6,9,12 weeks or 24days/48days and do the seva with bhakthi ,they will be free from Nagadhosha,Nagarapade(skin disease).This god also helps in Marriage settlement, child birth and etc . Till date all these are followed. Even a single task would not be done without the directions of God.
Till today what all development work that has been done are based on god directions and it will be followed in future. If they want to perform any Sevas or Poojas they will get assembled in the temple to seek the permission of Nagappa. Then God will give the directions and the same will be carried out. In this way, the temple has been built beautifully with the help of devotees.
Still, a lot of work is pending as a result of a shortage of Money. It's estimated that approximately around 20 lakh Rupees is required to complete all the work. The trust is short of around 10 lakh Rupees for the "Rajagopura", the trust seeks the devotee to donate generously to the temple.
In 1976 on Palguna Shudha Shasti Sri Nagesharma and Sri GanapathiSoumyaji have done the Maha Kumbahishekam.On every Sunday there will be special Abhishekas, Alankara, Poojas and distribution of prasadam.
In 1977 for the well and uniform working of the temple, trust was formed with elder and important people. The owners of this place Veeranagowda and Mandi Rudrappa whole heartedly gave the permission to setup a trust. In the initial days the condition of the temple was very poor. There were no facilities available, with great effort and many difficulties with faith and Bhakthi of trust members there has been tremendous improvement in the temple. Still they are trying hard to do more improvements. With the help of trust members all the Seva's and Utsavas and Alankaras are performed in great dignity. As a result the trust members are getting good responses from the people. We also thank Veeranagowda and Rudrappa for their co-operation.
In the year 1979-1980 on the celebration of 10th year with the blessings of God, they had arranged 25 days programme, where there was Abishekam, Mahapooja, Alankaras and Prasada distribution performed for 25 days. On that occasion there was Puranas from great vidwansa's on Chaturuveda, Ramayana, Bhagavatha and Mahabharatha. Its believed that whoever have done sin, at this sacred place is ought to be punished.
Upon the completion of 25th year i,e 1994-95 Silver Jubilee Celebrations were held in a simple way and a "Rajatha Vajrangi" was made with the help of devotees fund.
VISIT THE TEMPLE & SEEK BLESSINGS OF THE OMNIPRESENT SUBRAMANYA SWAMY.